Silent montage. Palm trees blow in the wind. Three people with backpacks slung over their shoulder pose for a selfie in front of an academic building with tall columns. People play basketball on an outdoor court. Someone has a video conference with three other people on a laptop. A person jumps on a skateboard and kicks off down a paved path surrounded by grass and tress. Someone dives in a pool creating a stream of bubbles underwater. Two people write notes while sitting next to a low table with coffee cups on saucers. A person sits on their bed holding a puppy next to large windows with bright sunlight. Someone stands and smiles while flipping pages in a hardbound book in a library. A group of people in casual attire ride bicycles through a city street. A person wearing a backpack and leather jacket with gold zippers walks briskly while carrying a notebook. A student sitting among other students in an auditorium classroom raises a hand. People laugh while sitting around a table with a laptop. Someone has a video chat on their phone while lying on the couch. A group of people silhouetted against a sunset raise their arms.
STUDENT APARTMENTS IN DAVIS, CA
Welcome to The Spoke — a vibrant student living experience full of one-of-a-kind character. Here, you'll discover first-class amenities as well as the comforts of home, helping you to make the most of these memorable years in style. Choose from a collection of spacious one- and two-bedroom floor plans designed for next-level living — all within walking (or biking — this is Davis, after all!) distance to campus and downtown. Plus, you'll enjoy access to convenient parking, friendly staff members, and exclusive resident events. Some might call them perks, but at The Spoke, they're just part of everyday life. Explore the rest of our site and see for yourself why we provide the best apartments for UC Davis students!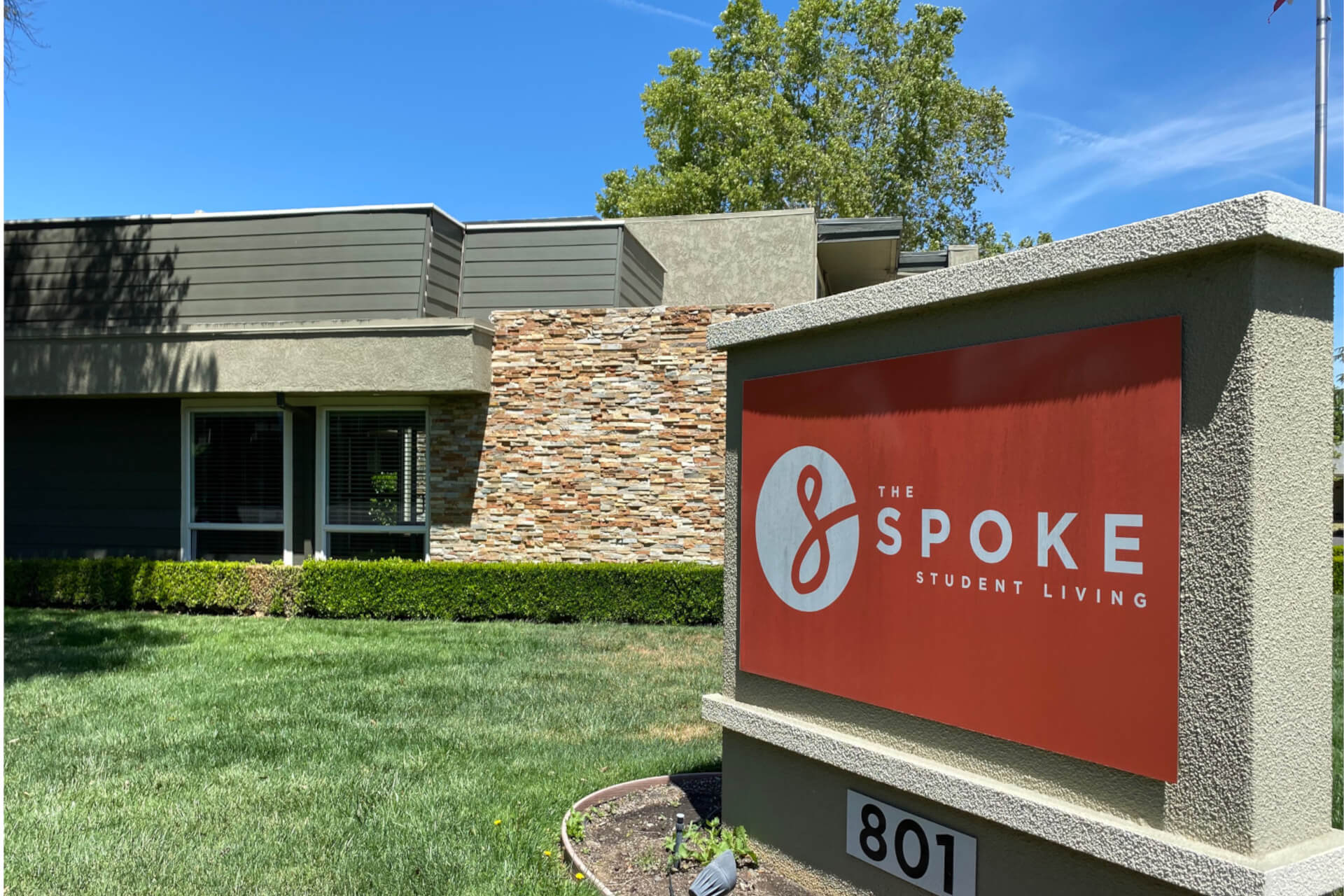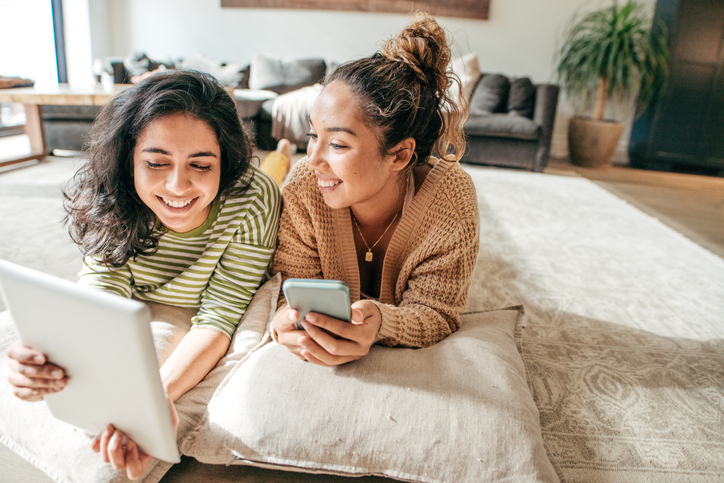 DISCOVER LIFE AT THE SPOKE
College life doesn't have to end when class is over — in fact, it's just beginning! The Spoke is a place to meet new friends, reach a new fitness goal, collaborate on a group project, cook up a new recipe, play with your pet, host a movie night, learn a new skill, and more. This is so much more than a place to live. It's a lifestyle designed by you, for you.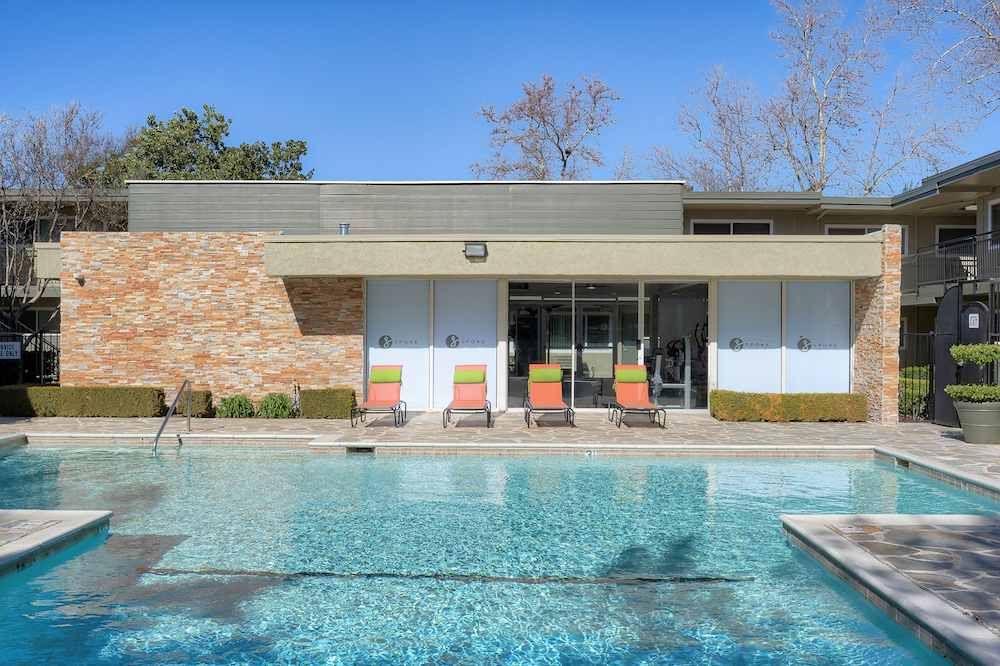 COMMUNITY AMENITIES
Pet Friendly
Three Resort-Style Swimming Pools with Pool
Furniture
Self-Serve Bike Maintenance Station
Fully Equipped, On-Site Fitness Center
Two 24-Hour On-Site Laundry Facilities
Unitrans Bus Stop at the Community — E and L Lines
APARTMENT AMENITIES
Optional Furniture Package
Expanded Kitchens
Vinyl Flooring
Air Conditioning
Large Patios
Spacious Walk-In Closets
THE CA ADVANTAGE
Award-Winning Students First® Experience — Enjoy life, growth, and success events monthly
Exclusive Access to Our Career Success Portal — Perfect your resume, practice interviewing skills, search thousands of unlisted job postings, and so much more
RentTrack Program — Pay your rent and build your credit at the same time
Community Rewards Program — Earn points and gift cards on our resident platform
ActiveBuilding — Keep connected with the community on our internal resident social platform
WHAT OUR RESIDENTS ARE SAYING
THIS IS
YOUR SPACE
From spacious one- or two-bedroom layouts, to top-of-the-line townhomes, everything about our floor plans is designed with you in mind. We've taken the time to create contemporary, comfortable spaces for you to live, study, relax, entertain, and most importantly, enjoy.
DAVIS AT YOUR DOORSTEP
Explore all downtown Davis has to offer, just minutes from home. Spend Saturday morning at the Davis Farmers Market, grab a drink with friends at Temple Coffee, or hit the greenbelt for a quick ride. With a central location only one short mile from UC Davis, just about every direction has restaurants, shopping, recreation, and nightlife waiting for you to enjoy.